Since I was up at 6:55 AM, it was COFFEE TIME BY DEFAULT!
This baby says, "I farted and a little poop came out. So what?"
From Slimjet User Group: Hamza Yousfi?! His profile says he's from Tunisia, but I don't know if that's an actual legitimate Tunisian name!
From Not Always Right: Joseph Bark?! WOOF WOOF BOW WOW!
From Not Always Right: Emily Warning?! What if she's not around to give you a warning? Haha!
Current Mood: productive
Current Location: home
Current Music: Ministry, "Broken"

I got up at 7 AM, so it was COFFEE TIME! A week of downtime and solitude has been VERY BENEFICIAL for me! YAY FOR ALONE TIME!
Please accept this Father's Day card as a token of my poverty.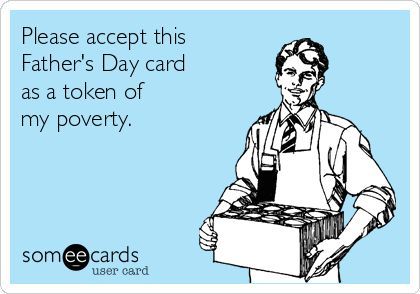 From Janina: I love you more than serial killers love nondescript vans.
Celes, Sabin, Edgar, and Setzer go to Darill's Tomb in FINAL FANTASY VI: THE ETERNAL CRYSTALS. Nothing appropriate comes to mind to carve on this gravestone, and they'll have to solve a puzzle later!
Current Mood: relaxed
Current Location: home
Current Music: Kim Mitchell, "Lager and Ale"

Eric M. called at 10:50 to say he'd be here ten minutes later to help me with my inadvertently unplugged speakers. He found
some black wire with a green plug
somewhere in back of my computer tower, which had been the problem. Then he plugged some things into the back of the computer tower, fixed the volume and microphone, and commented on my index cards and the dust. While he was there, I asked (knowing the answer) whether he was going to that Jacob's Well dinner at Jeremy's, then asked for a ride back. He wondered if I didn't also want a ride there: sure, as long as he wasn't doing anything beforehand! Then he cued up a numbers Youtube video, which Ayler would probably like if only he were allowed to watch Youtube. He left at 11:10 after I thanked him, which is fine. I'm glad to have sound / audio back!
I don't judge people based on race, creed, color, or gender. I judge people based on spelling, grammar, punctuation, and sentence structure.
From Janina: Great job on that thing you did!
From Engrish.com and Library of Most Controversial Files: Rape me okay, rob money are not.
Current Mood: relieved
Current Location: home
Current Music: KMFDM, "Revenge"


lilaznffairy421
and I have decided to see if we can reach the maximum number of comments on a post, which is currently set at 5000. (I guess the previous limit of 60,000-something was way too much.. probably caused the servers to crash, burn, and explode!)
We're not members of

_commentwhores
, so no worries there. If you want to help us reach that comment limit on this post, go ahead! (I thought of not allowing anyone else to comment, but that didn't promote a spirit of togetherness)
It will be interesting to see how long this takes, so the post will be dated. Whoever first leaves a comment, please date it. If we ever get to 5000 on the post, date the last one if you remember!
Leave any comments you like on any topic, but remember: I have full veto power, and I can delete anything I choose to. MWAHAHAHAHAHAHAHA! *evil grin*
By the way:
please include a subject line when starting a new thread in the comments section
. It makes my job of sifting through emails so much easier. :D
Edit on Wednesday, 2 February 2005 @ 10:50 PM
We're done! Yay! :D For Farrah's friends who want to see this for themselves, it's now public. ;)
Edit on Tuesday, 31 May 2011 @ 8:05 PM

matt1993
wants to get this up to the newer limit of 10,000 comments.
Current Mood: crazy
Current Location: home
Current Music: Otis Redding, "Sittin' on the Dock of the Bay"